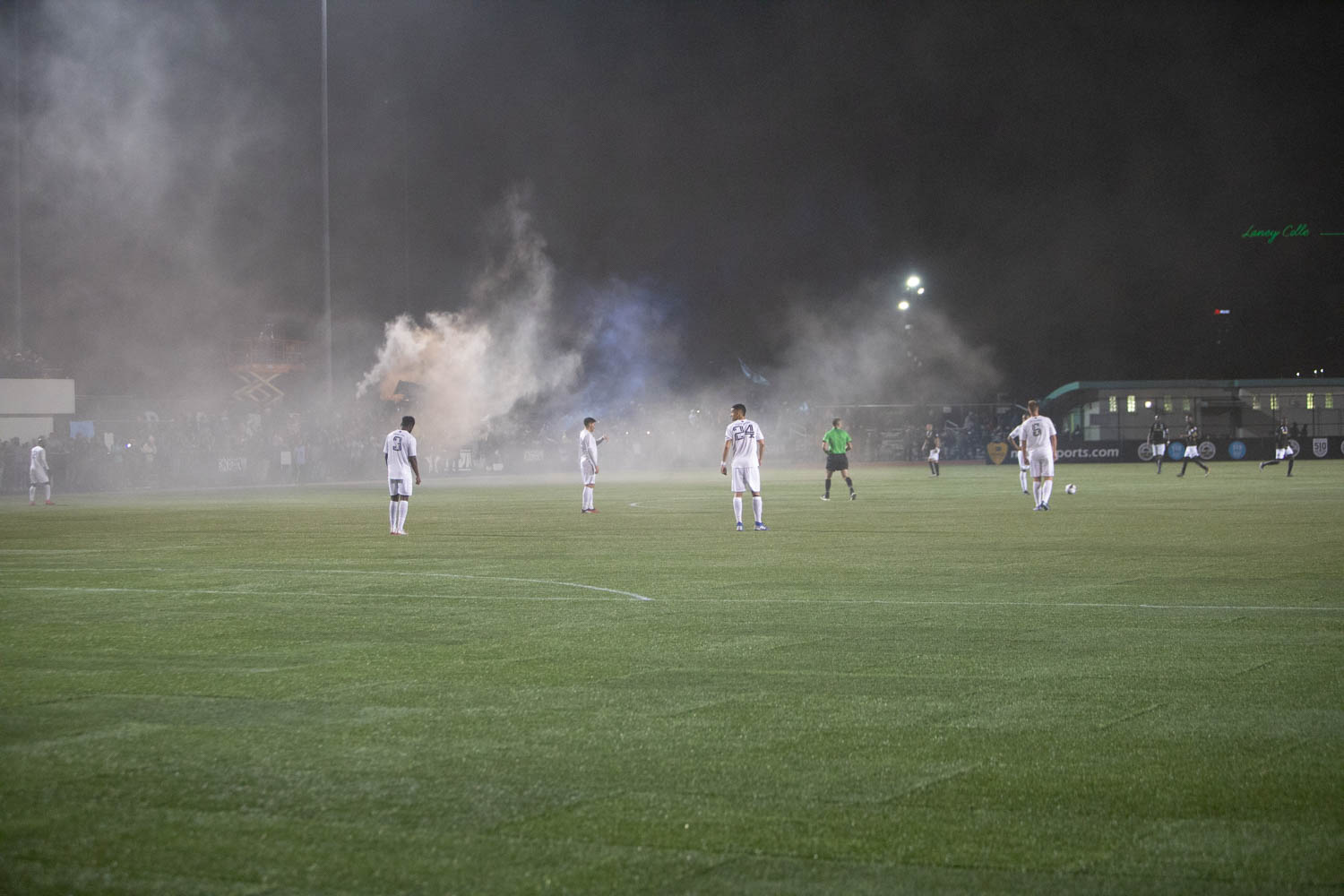 The Oakland Roots Soccer Club (SC) squared off against Chattanooga Football Club (FC) for the opening game of the 2020 National Independent Soccer Association (NISA) season in Oakland on Feb. 29. Over 5,000 fans showed up excited–and a little cold–to Laney College Football Field for the Saturday game. The Roots came out strong from the kick-off and pressured Chattanooga immediately.
Defender Robert Hines (33) made an attempt at goal with a header in the first fifteen minutes that sailed over the crossbar.
In the 19th minute, Roots goalkeeper Taylor Bailey (47) made a huge leap to catch the ball in midair and collided with an advancing Chattanooga forward, tumbling to the ground.
Chattanooga scored in minute 33 when Kyle Carr (12) chipped a corner shot to Ian McGrath (23) over the Roots defense for an uncontested header into the net. This was the first goal for the Chattanooga FC franchise since joining NISA this season.
Oakland's midfielder Angel Heredia (8) attempted to counter the goal from Chattanooga, sliding the ball through their defense to find Jack McInerney (9) inside the goal box. McInerney delivered a kick past the Chattanooga defender toward the left post, forcing Chattanooga goalkeeper Phil D'Amico (1) to dive left for the save.
At the 40 minute mark, Hines reacted to a high kick by Chattanooga's McGrath, stripping the ball from McGrath's arms. McGrath appeared to be taunting Hines, who got right in McGrath's face, briefly touching his forehead to McGrath's nose. Chattanooga players then shoved Hines away from McGrath, and Hines' teammates stepped in to calm him down.
The referees gave a yellow card to McGrath for his high kick, while Hines was sent off the field with a red card for a "headbutt."
The Roots played the remainder of the game with one man down — ten players on the pitch.
Chattanooga continued to fight off Oakland's advances, finishing the half with the Roots down 1-0.
Oakland struggled against Chattanooga for the majority of the second half, with a couple of close breakaways from Chattanooga.
Regulation time ended with exciting chances for both teams but no further goals, but two minutes into stoppage time, Roots' midfielder Manny Gonzalez (32) managed to chip a long ball over Chattanooga's midfielders for Jack McInerney to edge out a small gap on the defenders and push the tying goal right through the legs of Chattanooga's goalkeeper Phil D'Amico (1).
The Roots fans jumped to their feet, dancing to the song "Oakland" by Vell. With that last minute goal, the Roots walked away from the game with a 1-1 draw against Chattanooga.
After the game, Jack McInerny said that red cards are just part of the game: there's still a game left to play.
"You can make something of it."