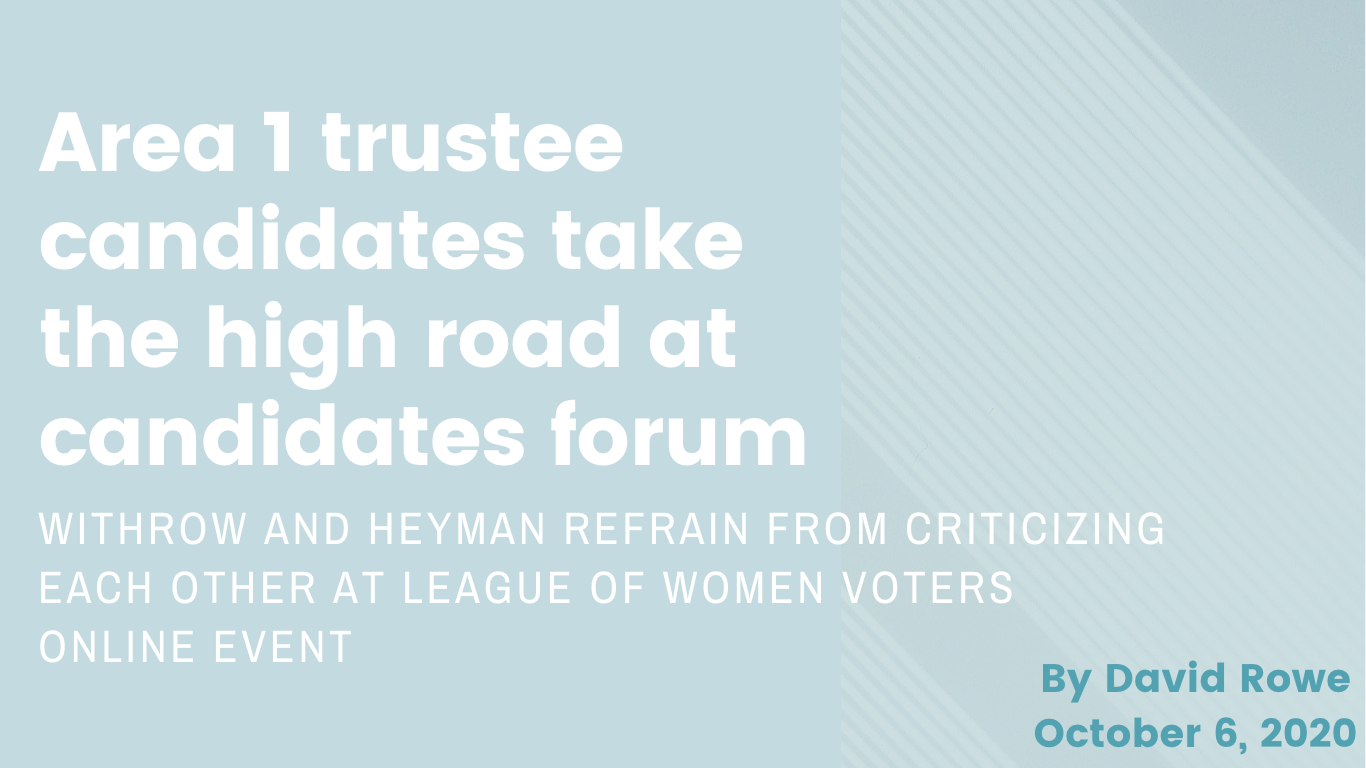 Bill Withrow and Jeffrey Heyman, the two candidates for the Area 1 seat on the Peralta Community College District Board of Trustees, squared off in an online candidates forum sponsored by the League of Women Voters of Oakland on October 1.
The civil tone of the forum was in stark contrast to the charges and counter charges leveled in earlier Zoom interviews with The Citizen. At the League of Women Voters Forum, both candidates were on their best behavior and one went out of his way to complement the other.
In his opening statement, challenger Jeffrey Heyman pointed out that while he and incumbent Bill Withrow may have "differences of opinion on policy," they both "love the Peralta colleges" and "care deeply about our students."
Even when Heyman criticized the Peralta district for its financial improprieties, accreditation probations, and enrollment drops, he took pains to point out that "none of these things are [Withrow's] fault. But they happened on his watch."
For his part, Withrow did not make a single critical remark about Heyman during the entire 45-minute event. In his earlier Zoom interview with The Citizen and in subsequent emails, Withrow slammed Heyman's job performance as Peralta's executive director, public information, communications & media, a position he held for 18 years ending in 2018.
Even when it came to policy questions, there were remarkably few disagreements. Both candidates endorse Proposition 15 to provide more funding for community colleges, both agree on the challenges of remote education during the pandemic, and both think any instances of bias and abuse of authority should be reported. There was also agreement on the importance of finding a strong and highly qualified permanent chancellor, given the short tenure of the last person holding that office. Withrow revealed the Peralta Board of Trustees is conducting a national search for permanent chancellor candidates.
One issue on which the candidates' views diverge is Peralta's decision to terminate its contract with the Alameda County Sheriff's Office (ACSO). Withrow reiterated his support of community policing and pointed out the high cost of the ASCO contract. Heyman is undecided on the issue, saying he is "just not sure it's a good idea to forget about the sheriffs entirely."
Withrow called out Heyman on his oft-quoted statistic that 60% of the transfer students from College of Alameda are admitted to University of California, Berkeley compared to just 6 percent of high school graduates who apply. Heyman provided his own statistics from US News and World Report showing a graduation rate of 22 percent from College of Alameda and a transfer rate of just 13%. 
The Citizen reached out to Withrow after the forum regarding the source of his information. In an email response, Withrow said the admission rate to UC Berkeley for high school graduates should be 16.8% rather than 6 percent. His source for the 60 percent admission rate from College of Alameda "came from personal contacts within the UC System" although Withrow declined to identify them. In response to a request from The Citizen, Dr. Don Miller, interim president of the College of Alameda, shared a recap showing an average of 13 College of Alameda students transferred to UC Berkeley each year for the six-year period from 2013 to 2018. It did not show the acceptance rate, however. 
Heyman also questioned the effectiveness of the district's Chromebook distribution program. "I can't get anyone at the district to tell me exactly how many have been handed out," he said. His best guess is that only one-third of the 9,000 Chromebooks purchased by the district have been distributed so far.
Despite these relatively minor disagreements, the event was informative and well-managed by The League of Women Voters of Oakland. Neither candidate interrupted the other and both showed respect for his opponent. With just one month of campaigning left for Heyman and Withrow, the civility of the forum was notable, coming just days after what many Americans dubbed as a "chaotic" presidential debate, full of interruptions and low blows.