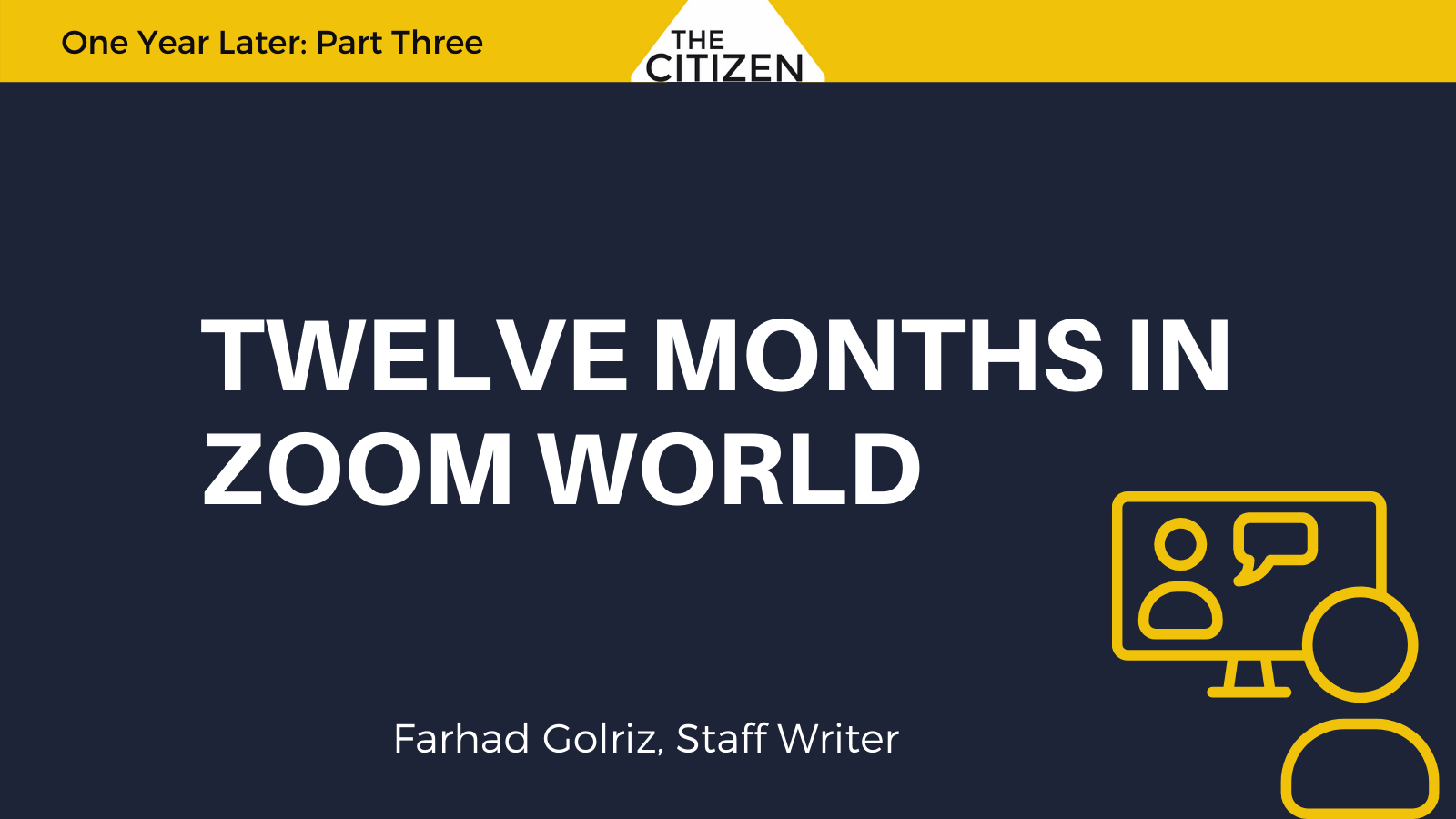 One year ago, during my second semester of community college, in-person class was suddenly canceled and moved to online learning. All of this happened as I was just getting used to attending my journalism classes, taking public transportation and getting a feel for the campus. I was getting familiar with the many beautiful faces and kind students who were attending Laney College, but everything changed when school went remote. 
The COVID-19 pandemic has changed the way I live my life in many aspects. Since the beginning of March of last year, I have been unable to visit my family in other parts of the world, which for me is a rarity. Some of the people I truly miss being with is Rabeh, Vafa, Illya, Saeid, Zoreh and so many more of my loved ones. When the pandemic first started I always felt a slight sense of uneasiness about what could happen to me or my family during these difficult times. From time to time it becomes hard to understand whether I am scared or just overly worried. 
I began to feel many mixed emotions of confusion, worry and anxiety due to the separation from both my family and friends around the world in which I would visit very regularly. Having to talk to everyone via Facetime and Zoom made me wonder if I will ever get to return to what life was like before. At times I felt torn apart, saddened that the good days are now over. Prayer and patience are the only signs that have allowed me to understand these difficult moments we are currently living through.
All through out this past year I have had two dear, loving, kind and supportive friends Morooge and Rayan. They have constantly encouraged me to pursue my dreams and have stood by me in both the good and bad moments. They have given me so much love, support and strength during the most needed times. Even to this day they continue to support me on my path to success with endless love and kindness. Without their support I wouldn't have been able to achieve everything I have up to now. 
This year would not have been the same without the continuous support from my two closest friends Jessica and Diya who have been my best friends for many years and have continued to support me in my academics but also in life overall. Having their ongoing support has been the greatest honor and blessing. During this difficult year they have stood by me and pushed me to be as successful as l can. This has given me both strength and courage to accomplish all my dreams. 
When lockdown started I had a difficult time finding strength and positivity. Through my love of photography, I joined my surrounding community during the Black Lives Matter protests. I started documenting many student events that allowed me to learn more about myself but to also find a sense of positivity. This led me to creating my own photography Website to showcase my work in hopes of someone finding interest in my art. 
As classes moved completely remote via Zoom, I had a bit of a hard time understanding how to use it. Currently, I have become used to using Zoom for not only educational purposes but to also keep in touch with my family and friends all over the world.  
One year later, I feel like I have achieved a lot more than I thought I would be able to achieve. This will be my last semester with The Citizen since I have taken this class four times (News Production I-IV). I currently have eleven published articles total. This semester alone, I have six articles published so far. This has made me feel not only proud, but also determined to have ten articles completed by the end of the semester. Several of my latest articles in relations to the Peralta District have been shared on the district social media platforms, which is something I was not expecting.
As I look back at this past year I also made many new friends Yasamin, Yazmin, Halime Blel, Karol Obeid and Idris who have been such kind, supportive and caring friends. Each and everyone of them have brought me so much happiness and joy. The many positive and wonderful conversations over the phone and via social media with my friends has made each day a bit more brighter. 
My mission for my remaining time with the publication is to achieve my article goal and to close out my final semester with a strong and positive ending. Without the support from my professor Ms. G. and the many editors who have put their time and effort into the endless hours of editing, none of this would have been possible. 
As brighter days are ahead with the vaccine rollout, I believe we are at a turning point but we must continue to follow all guidelines for the health of not only our family and friends but the world as a whole. I hope that all of us will be able to return to some level of normality in the coming months.
As Persian poet Rumi says "It's your road and yours alone. Others may walk it with you, but no one can walk it for you."
~~~
One Year Later is a five-part series by Citizen reporters who have been on staff since the beginning of the COVID-19 pandemic. These stories feature their experiences over the past year and where they are now.