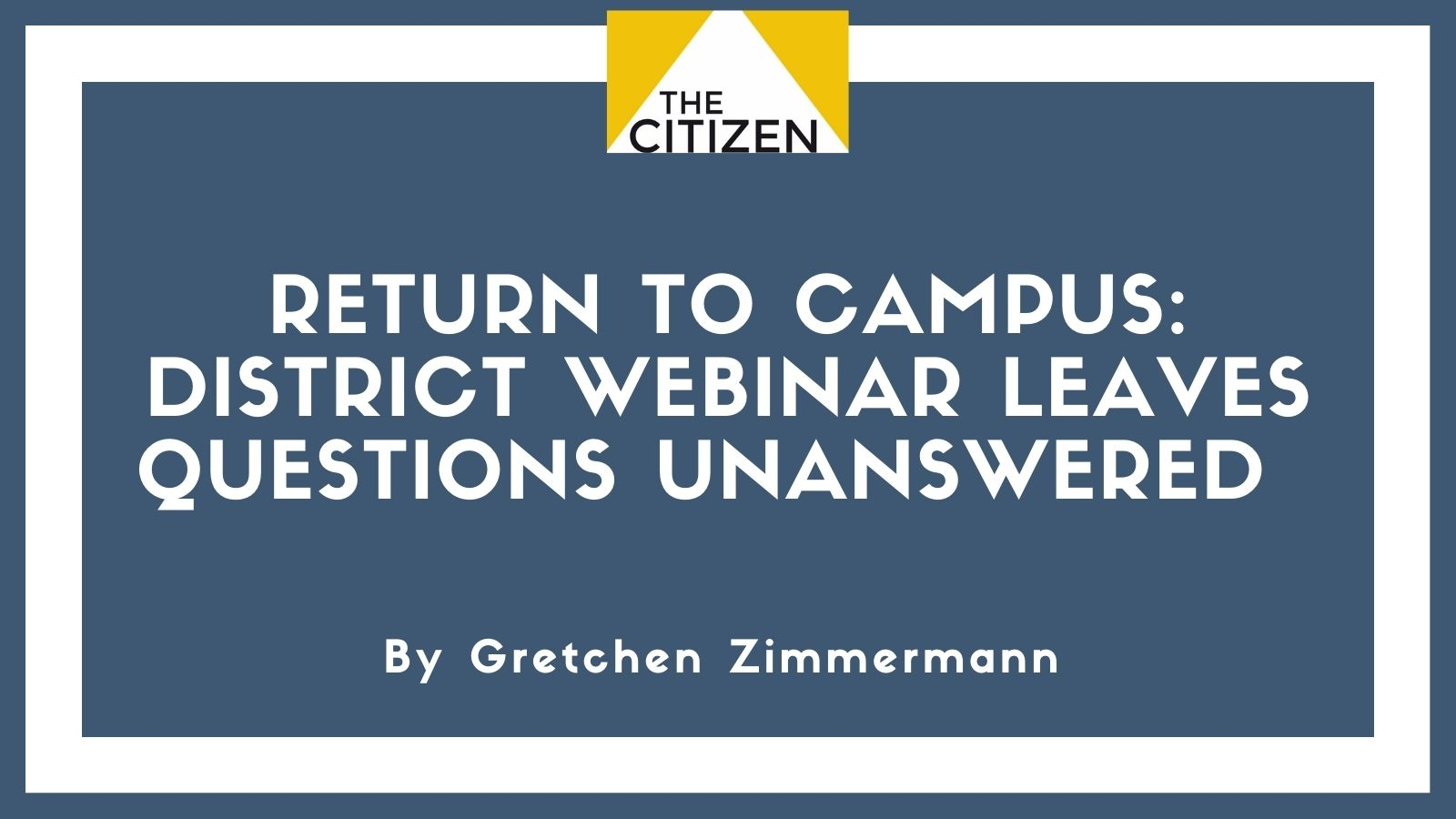 A virtual Town Hall titled "Safe Peralta Return to Campus" was held on Monday to update stakeholders on the new Covid-19 vaccine policy, facilities and safety. More questions were raised than were answered in the 90-minute meeting.

Chancellor Jannett Jackson opened with a presentation that focused on how much work her office had done to plan the return to campus, presenting both a calendar of events and a timeline detailing when the Board of Trustees enacted a vaccination policy on July 30, and listing all of the policy updates announced since then. Jackson repeatedly emphasized that the Board's decision left her team only 24 days, including weekends, to remediate campuses before the fall semester began on August 23.
Ronald McKinley, Vice Chancellor of Human Resources and Employee Relations, likened the return to campus to building an airplane while flying it. 
"No one's ever done this before, even when the last pandemic occurred in 1918 with the Spanish flu, everyone that's alive today that was alive then, they were children. They had nothing to do with the management of that pandemic. So we don't really have any benefit from that," McKinley said.
McKinley praised the Peralta Community College District (PCCD), stating that, while the district  may not be perfect, he said that the campuses will be safer than other places people might frequent, like restaurants, convenience stores, and gas stations.
Antoine Mehouelly, Chief Technology and Information Systems Officer, and Siri Brown, Vice Chancellor of Academic Affairs & Student Success, discussed the new system for students to upload vaccination status and weekly test results that they were to begin testing later that afternoon.
The practical information about the return to campus that The Citizen sifted from the above three presentations and subsequent email updates is:
Every person on campus must be properly masked, mask covers both nose and mouth, at all times while on Peralta-controlled property.

Employees must be fully vaccinated or have approved exemption by October 7, 2021.

Students who are taking face to face classes or seeking face to face services must be fully vaccinated or have approved exemption by October 13, 2021.

Students and Staff with exemptions must be tested for COVID-19 weekly.

Students who are taking online classes only and have no plans to set foot on campus will not be required to comply with the vaccination policy until the Spring semester. 

The PCCD will be providing pop up vaccination clinics, a vaccine redistribution site at Laney, and free employee and student testing five days per week beginning the week of October 11, 2021.

The State of California's CA COVID 19 website,

https://myvaccinerecord.cdph.ca.gov/

, will be used for validation of vaccination documents. 

Some employees will be getting two week notices to return to campus. The timing will be based on the needs of each campus or district.

Students may be disciplined for falsifying vaccination records under the BP -5500 and AP-5500-Standards-of-Student-Conduct. Employees may be disciplined for the same under Education Code 87732. Use of false or forged CDC COVID-19 Vaccination cards is a felony.

Faculty and staff can now upload vaccination documentation or exemption requests using the Company Nurse app.

Students may now upload their vaccination information or exemption request using Campus Solutions at

https://sa.peralta.edu

.  Login, select the "Student Vaccination Tracker" and then proceed to upload your documents.  Step by step instructions with screenshots for adding

vaccination information are here

and a

short instructional video is available here

. 

Students who are not vaccinated should select "Student Vaccination Tracker" and follow a similar process for uploading an exemption request form and weekly COVID testing results.

Step by step instructions for non-vaccinated students are available here

. 

Because of HIPPA laws and to respect student privacy, the student rosters available to faculty will only state a status of "cleared"or "uncleared". 

To avoid inequity and to respect communities of color who have a higher rate of vaccine hesitancy for historical reasons, PCCD will contract with health professionals to be at the campus entrances to talk to students who try to enter with an uncleared status. Rapid testing will be available one day a week at each campus and aligned with exempted students' due dates.

Some of this information is available now on the Safe Peralta site at

https://safe.peralta.edu/

. Check back there for updates.
Participants submitted questions during the meeting through a Q&A box on Zoom. This document has not been made available, however, the presenters promised to review the unanswered topics and address them in a later FAQ. According to Peralta Executive Director of Public Information, Communication & Media Mark Johnson, the live Q&A feature received 172 questions during the event, with more being asked in the chat. "Almost half" of the Q&A questions were answered during the webinar itself. 
Forensic Analytical Consulting's  HVAC report  provided an assessment of the last 23 days. The presentation detailed horrific photos of torn and dirty filters, some of which had not been replaced since 2014, standing water, missing bird screens, deteriorating insulation, corrosion of the machinery, and filthy, wet conditions that could block air intake and harbor the growth of mold. This report raised more questions than answers, prompting concern about how the HVAC on four campuses had deteriorated into a potential health hazard of its own.
The report also analyzed airflow, room capacity and class size to determine a safe level of occupancy with the replacement MERV 13 air filters that are now installed in every serviceable HVAC unit on each campus. Portable air filters can be brought in where needed.

Michael Terry of HPLE and Paul Llanez of Knowledge Saves Lives, Interim Director of Public Safety,  presented details on the volume of cleaning provided by Ray & Associates, planning for security checkpoints and additional security training in preparation to reopen campuses.
Interim Vice Chancellor Atheria Smith and  Interim Vice Chancellor Adil Ahmed presented on the Higher Education Emergency Relief Fund (HEERF) III Spending Plans Update. To date, they presented, HEERF II  wiped out  2,773,685 of student debt. 
According to Smith's presentation, HEERF III planned spending will total $15,139,617 to be spent on ACCO, Cleaning DW, Emergency Generators, FAS, Fencing, HBS, Keyless Entry, New HVAC, PM, PPE and Water Filter.
The video of this Town Hall an be viewed on Peralta's YouTube channel: Townhall Safe: Peralta Return to Campus. The presentations from PCCD and HPLE are posted here. The Forensic Analytics HVAC report is posted here. 
More information about the COVID-19 Vaccination Policy will be posted on Safe Peralta in the near future.