Students enrolled at each of the Peralta colleges can access free meals and groceries this fall, through various basic needs programs at each college.
A valid Student ID with an updated semester sticker is required in order to utilize the programs.
In addition to weekly or biweekly free meal programs, each college partners with the Alameda Community Food Bank in order to provide students with free produce and/or pantry items.
Students must be enrolled in at least one course at a particular college to utilize that college's programs.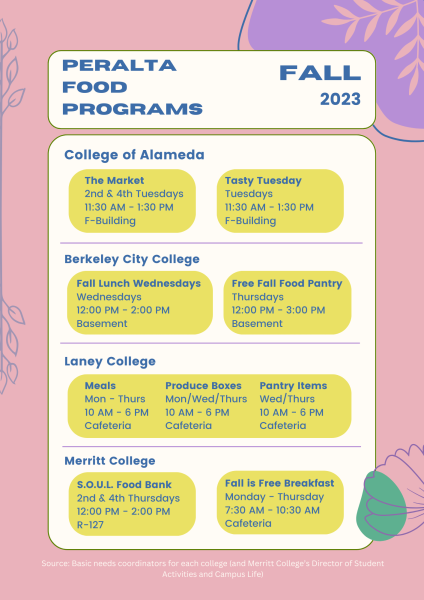 College of Alameda
College of Alameda (CoA) currently has two programs for food assistance, which are weekly and bi-weekly respectively; Tasty Tuesday and The Market.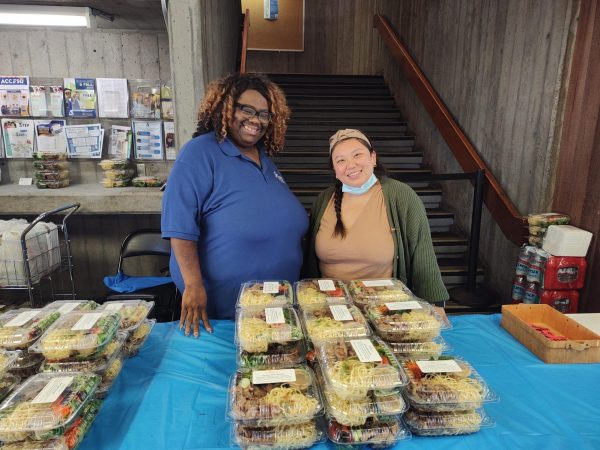 Tasty Tuesday offers CoA students and staff one free meal per week, every Tuesday from 11:30 am until 1:30 pm in CoA's Student Center, with staff being served starting at 12:30. The meals are sourced from a local restaurant, usually within walking distance of campus, according to Jeremy Simmons, CoA's Basic Needs Coordinator.
When possible, there are a variety of options to account for differing dietary restrictions, such as vegetarian and/or poultry choices. There is a limited number of meals, which can run out before the listed end time. 
The Market provides CoA students produce and groceries every 2nd and 4th Tuesday, also from 11:30 am until 1:30 pm in CoA's student center. On weeks when groceries are not being provided, a pop-up version of The Market will be put up to provide hygiene items such as toothpaste or fabric softeners.
Berkeley City College
Berkeley City College (BCC)'s two programs, Fall Lunch Wednesdays and Free Fall Food Pantry, are both weekly programs accessible to students currently enrolled at BCC and staff.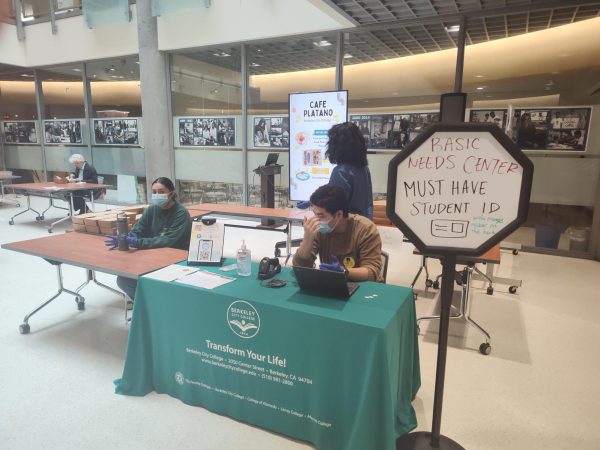 Fall Lunch Wednesday supplies meals to students every Wednesday from 12:00 pm until 2:00 pm, in BCC's atrium (basement). Staff are also able to access these meals, starting at 1:00 pm. According to Izzie Villanueva, BCC's Basic Needs Coordinator, the meals are sourced from local restaurants in Berkeley, such as Crave Subs or Mintleaf. Options are provided for those with differing dietary restrictions, although these may run out. 
Michael Ford, a Berkeley City College student who's utilized the program stated, "For the community as a whole it's great. It brings people together."
The Free Fall Food Pantry, also in BCC's atrium, is open to students every Thursday, from 12:00 pm until 3:00 pm, with staff being able to access it starting at 1:00 pm. The food is sourced through the Berkeley Food Network non-profit, which, according to Villanueva, collaborates with both Alameda County Community Food Bank and the Berkeley Bowl, a local grocery store.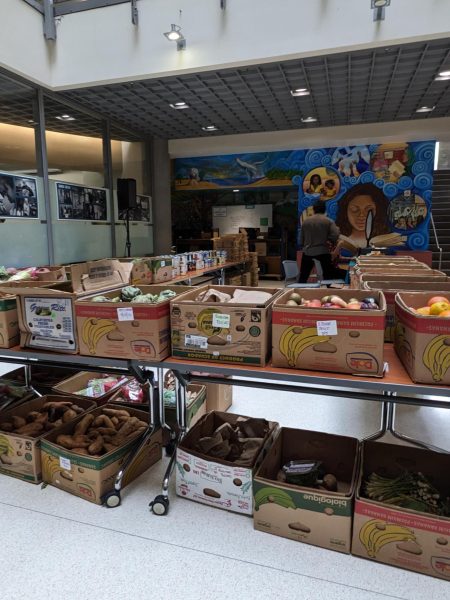 Laney College
Laney College offers free meals, produce, and pantry items to students enrolled at the college, provided in the Laney cafeteria. 
Students can receive up to one free meal per day Monday through Thursday, from 10:00 am until 6:00 pm. These meals are made in-house by Laney's food services staff.
Pantry items are available Wednesday and Thursday, 10:00 am until 6:00 pm. This program has a limit of one pick-up per week. 
Merritt College
The Fall is Free Breakfast is a free meal option available to students enrolled at Merritt College from 7:30 am until 10:30 am Monday through Thursday. 
Merritt College's Sustainable Oakland Urban Lives (S.O.U.L.) is a food bank open to both students and staff, which provides both fresh produce and dried pantry items. S.O.U.L. is open every 2nd and 4th Thursday of the month, from 12:00 pm until 2:00 pm, and is located in R-127. 
In addition to the Alameda County Community Food Bank, this food is also sourced through Merritt College's Sustainability and Landscape Horticulture Departments, according to Doris Hankins, Merritt's Director of Student Activities and Campus Life.