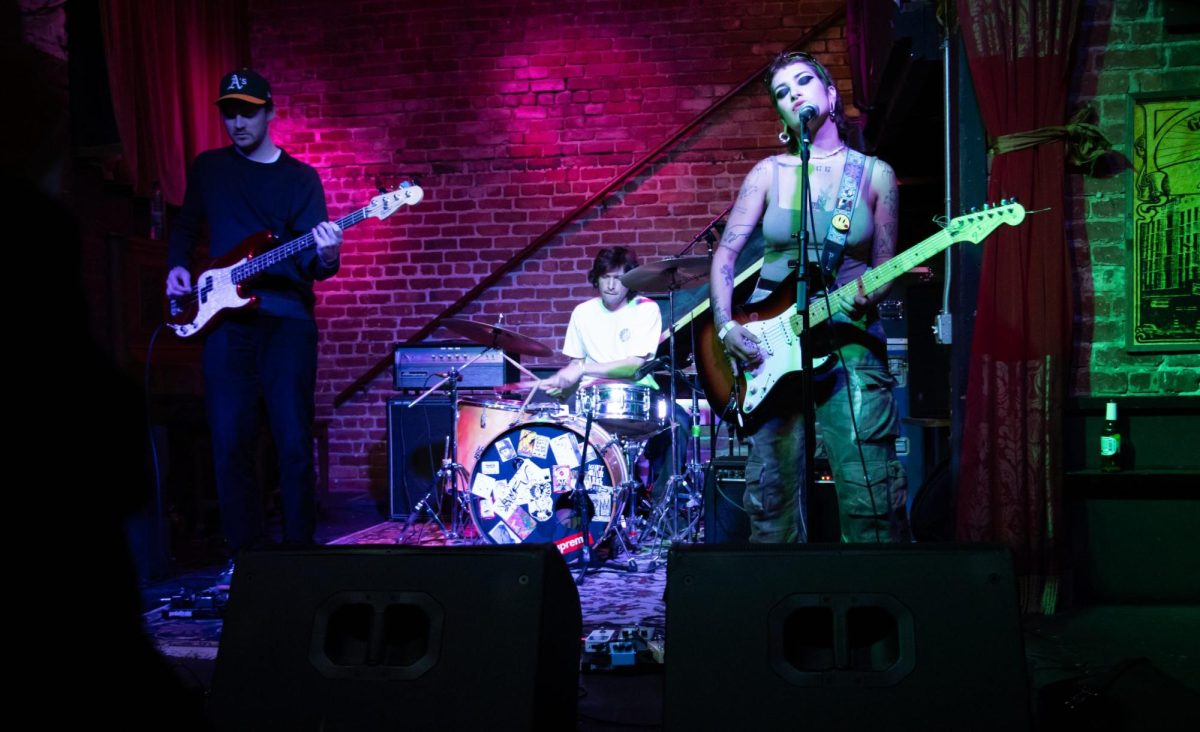 On stage, Muffler has the timeless energy that all great punk artists possess — a fantastic, effortless dark harmony that tells the audience they are not here for the crowds, but for their own love of music. Leaving one of their shows feels similar to waking up from a rhythmic, rage-filled dream with lots of distorted guitar. These people are in their element. 
This Bay Area-based band specializes in a skillful combination of shoegaze post-punk music, and has hit the ground running with their first album "Time has taken everything I know" in December 2022. The band performed multiple shows just weeks after coming together, and they are already working on a new album set to be released sometime this upcoming December. 
In the midst of their recording session in Oakland, the band was kind enough to sit down for an interview with The Citizen. For a band that plays with such an ominous sound, the members are surprisingly lighthearted – with nearly every answer followed by a punchline and a series of good laughs. 
Muffler consists of all self-taught musicians. The band is fronted by vocalist, songwriter, and guitarist, Gaby Aravjo (they/them), drummer and guitarist TJ Gardea Jr. (he/him) who has a talent for vocals as well, and lead bassist Wes Allerd (he/him) who joined Muffler a few months after the band's first album release.
Gardea attends Laney College, focusing on Psychology, and Allerd studies Computer Science at Merritt College. Aravjo holds a degree in social work and has attended City College of San Francisco in the past.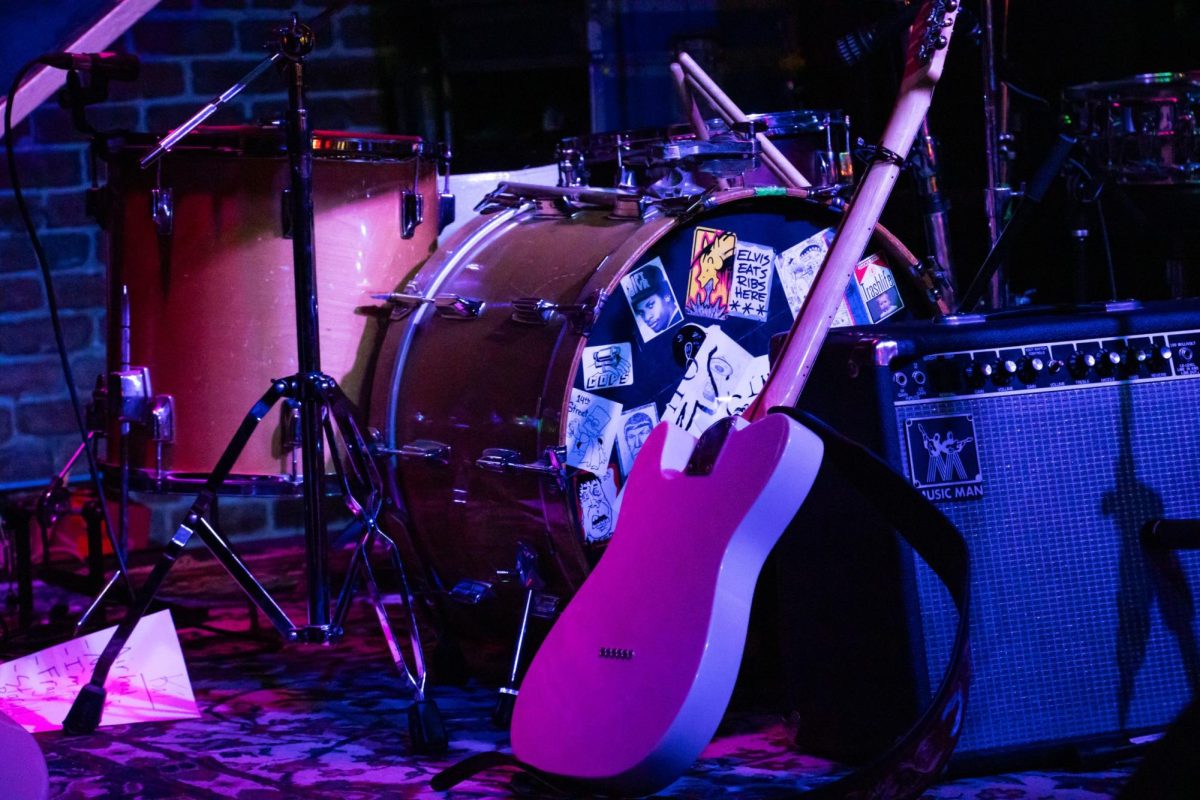 Aravjo, who is also a member of the San Francisco-based femme-punk group Buzzed Light Beer, came up with the concept for a new band that focused mostly on "shoegaze-y post-punk slow-core." They decided on the name one day while walking along the streets of San Francisco when they passed a car shop with the word "muffler" on the wall. 
"I saw it and thought, that's a good name for a band, and it just stuck," Aravjo recalled.
Now all Aravjo needed was a drummer. 
In the late fall of 2022, Aravjo and Gardea were working together in a restaurant. Aravjo heard that Gardea knew how to play drums, so they approached him with the idea for Muffler.
"I was like TJ, we're in a band now, and he was like 'okay I guess, whatever,'" laughed Aravjo.
"That's true," Gardea replied. 
Their artistic collaboration came at a very tumultuous time for both of their lives.
"I had just come back from the Buzzed Tour, and TJ had just come back from Spain. We were both so bummed at the same time, and we were just like f*** it all," Aravjo said.
"Yeah, we were going through some like life s***," Gardea agreed.
The band began their debut album with two songs, "Dead End" which Gaby had already written, and "Dinosaur Dreams" written and mainly sung by TJ. In the premiere song of the album, "Dead End", Aravjo's gloomy serenade intertwines with Gardea's raspiness and heavy drums inserting itself into a darker realm. In contrast, "Dinosaur Dreams" is much lighter, played entirely acoustic. Gardea sings in a much softer tone that implies a grave nostalgia. The song touches on growing old in a modern capitalist society with the main hook line, "time has taken everything I know."
"We recorded the whole EP in like two weeks. We just met up a bunch and just totally sent it," Aravjo added. "It sounds like more than two people, which is an accomplishment I think."
After releasing their album, Aravjo and Gardea started to get offers for shows. However, Gabby touched on how venues are not always welcoming or convenient for musicians. They mentioned that Muffler tries to be very selective about where they choose to perform.
"We're manifesting a show in Mexico," Gardea said. 
Gardea recruited Allerd into the band sometime in February. These two Stockton natives have been longtime friends. They had worked on other music projects and toured together with a previous band, Beer Wine King. Both got into music as teenagers.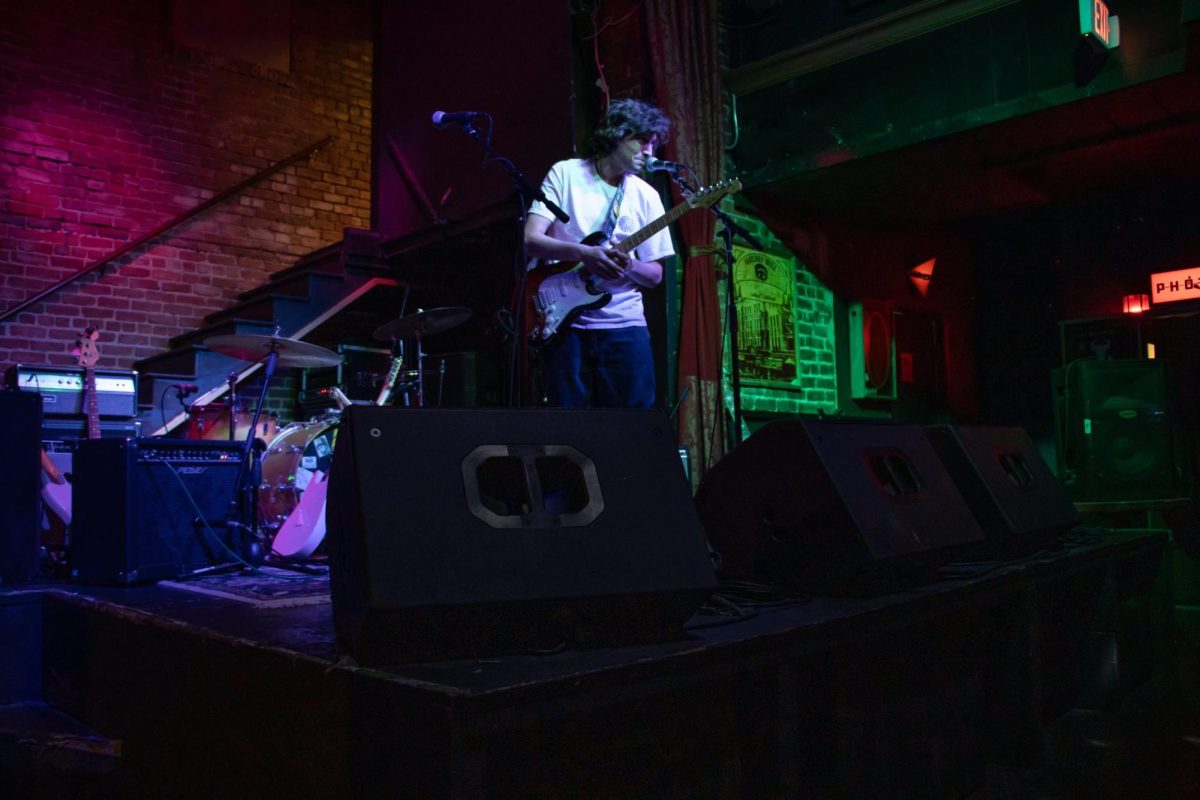 "I really do enjoy playing with TJ. We've had our ups and downs while on the road, but we always make it out stronger," Allerd said.
When asked what inspires their music, the band members did not name any particular source. Rather each feels that they are in a perpetual state of creation. Groups the band admires include the Pixies, Sonic Youth, and Slowdive.
At the end of our interview, we asked the band how they would like to be remembered 50 years from now. Aravjo replied immediately that they would still be performing and that Muffler would still be a band. Gardea argued they would be lost in history.
"I'll be like that robot dude from Futurama, who is it?" Aravjo asked.
"Bender?" Allerd replied. 
"Yeah, we'll all have robot bodies anyways," Aravjo chuckled.
"F*** no I'm not going to be doing shows," Gardea said. 
"No, you'll definitely be there," Aravjo responded.
Muffler is currently working on their next album set to be released next spring. The band plans to share a teaser song called "Bunny Rabbit" in December, and plans to have merchandise available soon.
In the meantime, "Time has taken everything I know" can be streamed on Bandcamp, Spotify, and Apple Music. Any upcoming shows will be posted to their Instagram.