Peralta Community College District (PCCD) officials hosted a virtual Public Safety Town Hall this Monday, presenting the results of a recent survey on campus safety and security results and answering questions from the community.
The survey asked questions such as how safe people feel on campus, as well as what people feel are other major security-related concerns for the district.
Stacy Thompson, a security consultant working for the district, presented survey results. Thompson explained that the survey was between Aug. 17 and Sep. 19, and was sent to members of the PCCD community, netting over 600 replies. 
48% of respondents to the survey reported feeling unsafe in certain areas of their campus.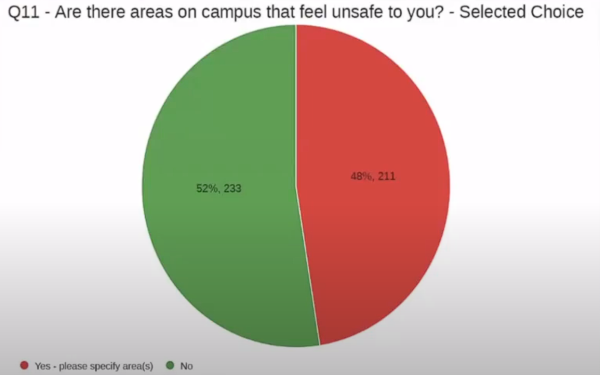 When asked how safe they felt overall on campus or the district office, only 32% responded that they feel "very safe" on campus.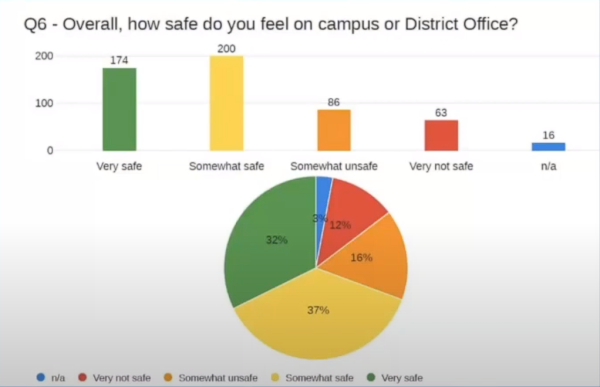 The survey also included an open-ended section where members of the PCCD community could voice their own concerns regarding campus security. Thompson explained that four concerns popped up the most: lighting and cameras, the unhoused, mental health and law enforcement.

After Thompson's presentation on the survey, district officials took a small break and returned to field questions and answers from attendees. 
During the Q&A, an anonymous attendee asked, "Is it possible to have police or increase security forces in Oakland like the Marshall Deputy?"
Interim Chancellor Jannett Jackson responded by stating that Peralta used to have a police presence but ultimately dropped it in 2020 when the Board of Trustees voted not to extend Peralta's contract with the Alameda County Sheriff's Office after 15 years. 
"There was a lot of things that were going on during that time," Jackson said, briefly touching on the Black Lives Matter movement and the 2020 BART shooting. "Frankly, we really had no plan. We just said, 'I don't want that.'"
She went on to detail Peralta's transition to private security since then, and spoke positively on the work of the Marina Security team with a suggestion for more improvement. 
"The quality of service that we have now from Marina is probably some of the best I've seen from security officers," Jackson said. "Are we there 100%, no we aren't. But they're better than nothing."
Karl Seelbach, the Laney College Carpentry Department Chair, asked when a district safety plan will be put in place, and whether PCCD has a Memorandum of Understanding (MOU) with the Oakland Police Department. 
PCCD's Executive Director for Communications, Marketing, & Public Relations, Mark Johnson responded on behalf of Jackson, saying that there has been work put in for the MOU, but there is still nothing in place.
At the close of the forum, Jackson spoke positively about the high public attendance in the forum and asked for future cooperation among the community. 
However, she expressed disappointment with the number of administrators that participated in the survey.
Only 19 administrators took the survey, the chancellor said. "You need to lead by example." 
A full recording of the safety forum is available on Youtube.