Berkeley City College (BCC) hosted public forums on Sep. 20 for the three finalists in their search to hire a new college president. Each candidate was given 50 minutes to present themselves and field questions from both virtual and in-person attendees.
One of the finalists, Denise Richardson, is also the incumbent, having been appointed Interim President of BCC earlier this year following the departure of Angélica Garcia.
The other two finalists are CEO of North San Diego County Promise, Rafe Trickey Jr, and City College of San Francisco's Vice Chancellor for Finance and Administration, John Al-Amin.
The chosen candidate will be appointed by Peralta Community College District's (PCCD) Board of Trustees on either Oct. 10 or 24, according to Mark Johnson, PCCD's Executive Director for Marketing, Communications, and Public Relations.
Denise Richardson has been employed by PCCD for over 20 years, having joined Laney College as faculty in 2001. She has acted in various administrative roles including Vice President of Instruction at Merritt College. 
During the forum, she emphasized maintaining BCC's 5 year Educational Master Plan, which defines the college's plans from Spring 2023 through Fall 2028, specifically citing the goal of closing equity gaps for black students.
To help reach these goals, and in light of state-wide changes to community college funding, Richardson aims to re-prioritize existing funding, and utilize a wider net of income sources, such as tapping into more grants.
"Equity is not a noun. Equity is something that we have to think about in every space that we're in," Richardson said.
Rafe Trickey Jr. has a lengthy history of leadership in college education. He has previously served as president of two tribal colleges, in addition to various administrative roles in other colleges.
Trickey is currently the CEO of the North San Diego County Promise, a non-profit focused on ensuring that students have the tools and resources to be able to attend and complete post-secondary education, with an emphasis on career readiness.
At the forum, Trickey put a strong emphasis on not letting individuals fall behind.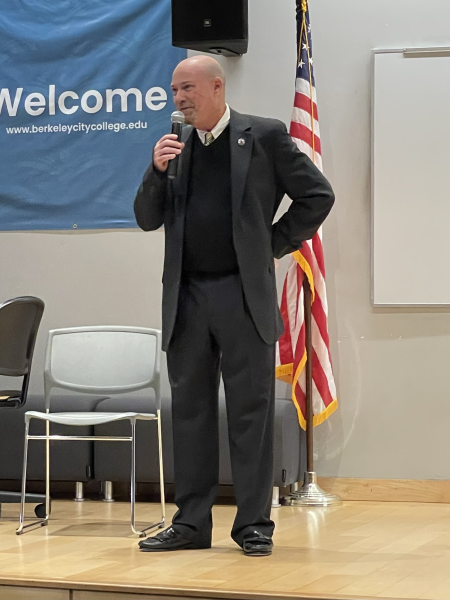 "When some among us are not succeeding, none of us is really succeeding," he said.
Trickey has previously served in two administrative positions at The College of the Marshall Islands, where poverty is a major issue. Being able to reprioritize spending in a cooperative way was critical to overcoming deficits.
He argued that on a state level, California has the money to better fund its community colleges, and promised to be an advocate for making sure that BCC gets a higher level of funding on the state level.
"I'm not convinced that we don't have the resources in the state of California to continue to better fund our California community colleges," Trickey said. 
Trickey also stated that relations with the faculty are one of the most important relations to have as a president. 
"I value faculty and I value staff," he said. "I think the least important, and I probably shouldn't say this, the least important people in our setting are administrators."
John al-Amin is the current Vice Chancellor of Finance and Administration at City College of San Francisco (CCSF). He has served in various administrative positions for nearly 20 years. He is also a former Laney College administrator and student. 
Al-Amin, a "student-centered guy," stressed the importance of providing "critical" support systems to students, and working to retain both students and employees.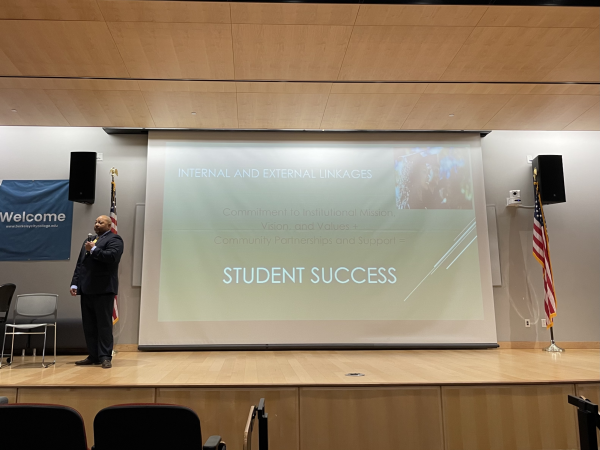 "We need to be able to address those needs and provide programs and services that will allow them to be holistically whole," Al-Amin said.
As an administrator, Al-Amin said he routinely engages with students, and meets with associated student groups.
When asked about dealing with declining budgets, Al-Amin said that his strategies include maximizing use of available funds, and having a grant development strategy that includes collaboration with faculty.
During Al-Amin's time at CCSF, the college, facing a budget crisis, laid off dozens of faculty and classified staff. CCSF reported better fiscal health later that year.
The classified staff layoffs received criticism in an article posted by Service Employees International Union, Local 1021 on Jan 7, 2022. The article references a letter from Susan Henricks, the former Chapter President at LA City College for AFT Local 1521. A copy of this letter was provided to The Citizen by SEIU Local 1021. 
In the letter dated April 22, 2021, Hendricks criticized Al-Amin's leadership at LA City College and accused him of a "refusal to be transparent about budget and campus facilities issues." 
The Citizen reached out to Al-Amin for comment regarding Hendricks' letter.
In a detailed response, Al-Amin called Hendricks' comments "false, inaccurate, and inflammatory," and stated that CCSF had its first clean audit in 25 years under his leadership.
Community Reflections
The Citizen asked community members to reflect on their impressions of the candidates and what they want to see in a future BCC president.
Kelly Pernell, the Secretary of BCC's Academic Senate, as well as a Math Professor at BCC, said she was thoroughly impressed by everybody's presentations. 
While she recognizes the value of bringing in an outside perspective, she also stated that she did feel very drawn to the incumbent president, Richardson. She added that it's important for the college to focus on diversity due to its HSI and AANAPISI statuses.
Christopher Lewis, BCC's Dean of Math, Science, and Career Education, also thought each of the candidates were compelling. 
"Hard for me to judge just based on the brief forum," he wrote in an email. "I'm sure the committee will do a good job of selecting the best."
He stressed the importance of strengthening and expanding both internal partnerships within the district, and outside partnerships with potential employers and community organizations.
Kristiyan Klichev, President of the Associated Students of BCC was not present at the forums but spoke positively about Richardson in an email to The Citizen.
"I've attended several committee meetings with current Interim President Denise Richardson, and I can say that she is a well-spoken, versatile and empathetic person in and outside of the work that she does at Berkeley City College," Klichev wrote in an email.